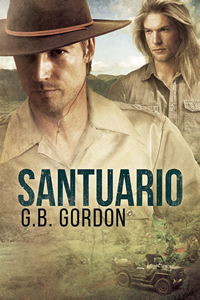 Now back as ebook at your usual retailers. Paperback coming soon.

I have a limited amount of First Edition author copies available for sale. Shoot me an email at gordon[at]kontext.ca if you'd like one. I'd be happy to sign it for you.
Santuario
Police teniente Alex Rukow has spent his life trapped on Santuario, his people's isolated home-slash-prison-island. They've been living in poverty under the tyrannical regime of their own elite familias for the last two-hundred years, ever since their generation ship landed on the planet and found it already populated by earlier Earth settlers, the Skanians, who banished them to the inhospitable south.
Increasingly shamed by the decisions of their ancestors, the Skanians seek to open their borders. But dissent exists on both sides, and in the midst of this explosive political situation, a dead body appears on the island.
Bengt, a Skanian investigator, is shipped to Santuario to lead the murder investigation—which, he quickly realizes, the local teniente wants nothing to do with. As far as Bengt is concerned, things can't get worse than the brutal climate, his own memories, and a growing attraction to a partner who will barely say two words to him. But then he and Alex run afoul of the local familias, and the problems with their investigation and their budding relationship seem like nothing compared to just getting out of this whole mess alive.